Crave Family Grill & Pub
Contact Info
Phone: 519-322-0032
Email: craveleamington@gmail.com
Go to website
26 Erie St N, Leamington, ON N8H 2Z3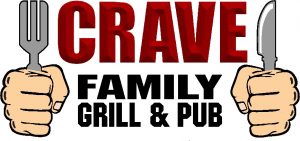 Crave Family Grill & Pub replaces Gilligan's as Leamington's go to for the best food and family friendly atmosphere.  The local lunch spot continues to offer a wide selection on the $10 Lunch Menu, tax included!
Check out new creations like Bacon Wrapped Perch, Nutty Chicken Salad, Irish Waffle Fries or Mac & Cheese with Pulled Pork along side your old favorites, the Big Burrito, our signature clubhouse with house roasted turkey and of course, our burgers.
With a new focus on Lake Erie Perch, this uptown hot spot is sure to satisfy your craving.  Serving local craft beers with 1/2 price wings every night after 7pm.  Save room for dessert: Salted Caramel Chocolate Chunk Skillet Cookie with Ice Cream!
CLICK HERE FOR THEIR CURRENT MENU  Crave Main Menu 2018 05 03